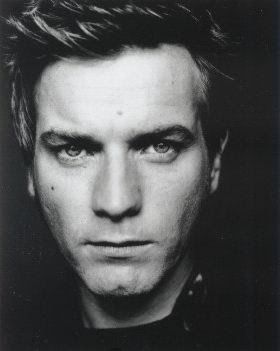 This is Ewan. He is Scottish. He is an acclaimed actor who first got Hollywood's attention with his role as 'Renton' in the gritty and gross Trainspotting. I admit to having a slight 'movie star' crush on him, especially after he sang his way into every girl's heart as the lovestruck songwriter in Moulin Rouge. Needless to say, Aaron refuses to sit through Moulin with me and you should just see the look he gives me when we watch any of the newer Star Wars movies and Obi Wan comes on the screen...sharp, killer, jealousy daggers!
According to Aaron I have hidden, amorous plans to steal away in the night and escape to Scotland with Mr. McGregor and I'm just waiting for my chance. It has proven fruitless to try and
explain that the reason I woo over him is the same reason my mom and aunties all used to pant over Harrison Ford in the late 70s and all through the 80s.
It's fun! Watching great movies with handsome guys in them is just a delight! I am a red blooded, all-American woman with good taste in leading men.
But, what is even more fun is seeing Aaron get frustrated that another man has my undivided, breathless attention. It's sweet and actually kind of hilarious that he gets so mad. I am sure I overdo my interest to push Aaron to his boiling point, and then I make sure to grab him in a huge passionate embrace and whisper my undying devotion into the ears of only man who gets my heart racing in reality...him!